Tax Return Solutions and Advice
Need to complete this year's tax or lodge an old return? It's not too late to tie up any loose ends with your tax return and ensure that everything is correctly submitted to the ATO.  Our Cheltenham Tax Advisors can assist you in the preparation and lodgement of your return, as well as communicate with the ATO on your behalf and resolve any tax issues. Specialising in Personal, Business and SMSF Tax, we take the time to properly evaluate and complete your return, and ensure the very best services and advice.
If you are an individual tax payer, sole trader or small business owner, it's important that you receive the right tax services and advice. A Tax Advisor can help you to better understand your responsibilities and improve your tax position, as well as look after the finer details of lodging your tax return. We can ensure that you claim all of your eligible deductions and business concessions, that the proper information is reported and are making the best of your tax situation.
Our Cheltenham Tax Advisors services include:
Individual Tax Returns
BAS and GST Returns
Sole Trader Tax
Annual Business Tax
Company Tax
SMSF Tax
Trust and Partnerships Tax
Tax Advice
Tax Minimisation
Our expert team take the time to understand your tax needs and ensure that you receive accurate, reliable and personalised solutions. Depending on your job, industry and financial situation, the complexity of your tax return may vary year to year. If you are unsure of your tax responsibilities, have multiple income streams, an investment property, operate a business or have a lot of deductions to claims, it is advisable to speak with a tax professional.
Learn more about our Cheltenham office, including the Tax, Accounting and Business services that we provide.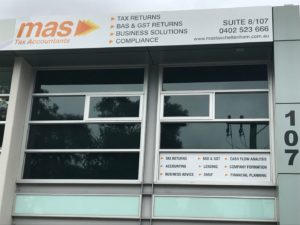 For more information or to schedule an appointment, please contact us below or call us on 0402 523 666